2022 AAPS Advocate Luke Larson and Larson Plaeontology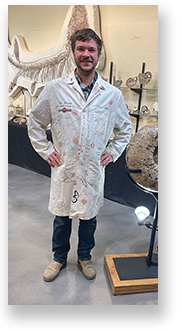 Luke Larson of Larson Paleontology was victorious in his bidding for the Bill Mason Paleobond Lab Coat at the annual 2022 AAPS Auction for the honor of flaunting the lab coat until the next annual auction in Feb 2023. Along with the honor of possessing it for a year, his company, Larson Paleontology, gets to be acknowledged and promoted in the AAPS annual directory as seen below.
Larson Paleontology Unlimited (Larson Paleontology) is a fossil/earth science preparation, conservation and consultation company that works with amateurs, professionals and institutions. The company was conceived by Neal and Luke Larson in December of 2012 to provide the finest quality prepared fossils to the collector, researcher and museum. Their mindset is that each and every fossil, no matter how important or trivial, needs the proper preparation to bring out its highest potential - no matter what it takes. From this attitude they take some of the world's most well-recognized fossils, ammonites, and turn them into magnificent scientific and display specimens. Larson Paleontology specializes in North American Ammonites but also supplies: Ammonites from world-wide localities, Agates, Trilobites, Crinoids, Eurypterids, Bivalves, Corals, Gastropods, Opals, Jewelry, Petrified wood, Books, and so much more.
Neal is well known for his love and knowledge of ammonites. He has written four popular books on the subject, has more than 60 published peer reviewed scientific articles (with many more in the wings) and more than 70 paleontological abstracts, posters, articles and reviews plus has given dozens of professional power point and slide presentations on a wide variety of geological, paleontological and historical subjects. To date, Neal has named and/or co-named 16 species, 4 genera, two families and one suborder of fossil invertebrates. He is a founding member, officer and board member of the AAPS; co-founder of Black Hills Institute; and co-founder, officer and board member of Black Hills Museum of Natural History.
Luke is an accomplished preparator, with experience that ranges the wide gamut of paleontological skills. He is well known for his phenomenal detailed preparation on dinosaur teeth, claws and small bones as well as a wide variety of other fossils including shark and mammal. Over the last seven years he has established himself as one of the finest professional preparators in the field of Dinosauria. His attention to detail and his diligence to do the finest work has won admiration from all who have seen his final products. He has a passion not only with ammonites but also with opals. He has acquired some of the finest, most brilliant opals for sale in the world today complimenting the family's passion with their close colors and brilliance and iridescence to ammonite shell.
Neal and Luke were joined in the business by Leif Larson in 2021, fulfilling the dream that he had been wanting for nearly 10 years. Although Leif had helped his father Neal in preparing fossils for shows since 2012 the company was not quite fluid enough to be able to bring him in. Leif brings his own special talents and diligence in preparing nearly every single fossil found within the host rock when no one else has ever bothered. His desire to exquisitely prepare bivalves, gastropods and everything else preserved in the rock makes the pieces he prepares a detailed snapshot in time of the seafloor during the Late Cretaceous.
The combined years of professional experience within the Larson Paleo of Neal, Luke and Leif number nearly 80 years. All had their beginnings at Black Hills Institute with Neal as co-founder, owner, collector, preparator and officer; Luke as collector, preparator and sales; and Leif as collector and preparator. After their time there, they all longed to continue in the profession that they had truly loved. Their passion for natural history and their commitment in their preparation shows in the fossils they exhibit. It is their passion and commitment of the past and their deep love of fossils that drives them to try to be the best at their profession.
Larson Paleontology Unlimited isn't just fossils; they also have available jewelry from other members of their talented family. Brenda (Neal's wife), In Your Dreams Jewelry, has been making one-of-a-kind gemstone necklaces, earrings and bracelets since 1981; Yurie (Luke's wife), Galaxy Studio, utilizes gemstone and Ammolite in her unequalled wire wraps and creates some phenomenal fossil and modern sculptures; Elisha Greenawalt (Neal & Brenda's daughter), Sunburst Creations, creates lovely semiprecious and precious stone rings, earrings, and pendants set in gold and silver as well as unique gemstone beaded works.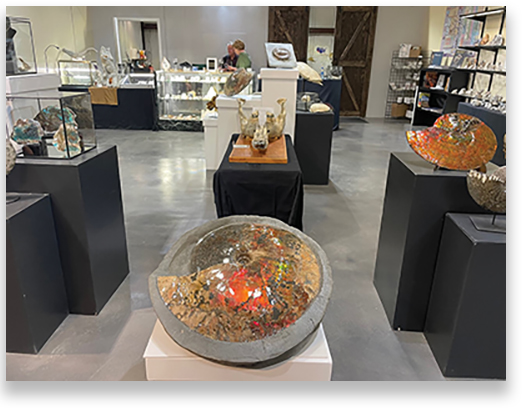 Larson Paleontology's showroom is located in the Mineral and Fossil Coop across from Russell-Zuhl and next to GeoDecor at 1635 North Oracle Rd., Tucson AZ. They are there every day during the annual Tucson Gem and Mineral Show from 10 am through 6 pm. Please stop in to visit with them and see some of North America's finest ammonites and much, much more. Visit their website at https://lpfossils.com/ and see their Ad in the Tucson Guide to Fossil Dealers and Events in Tucson.