2020 AAPS Advocate Dr. Kendal Martyn of Moussa Minerals and Fossils
Since 1995, the Paleo Bond Lab Coat has been auctioned off over 27 times and has traveled home to nearly a dozen different states as well as Morocco and the UK, always returning to be re-auctioned. During the 2017 annual meeting and auction in Tucson, Neal Larson, Past-President of AAPS recommended that we honor the person or company that successfully bids on the Paleo Bond Lab Coat and the designation of AAPS Advocate was born. Dr. Kandel Martyn and Moussa Minerals and Fossils were the successful bidder on the PaleoBond Lab Coat during the 2020 auction.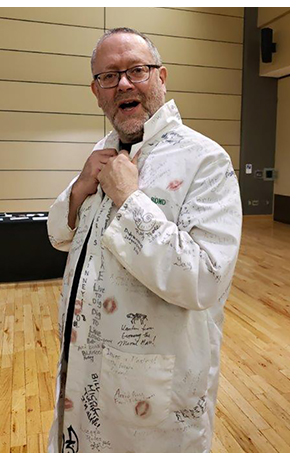 Interest in fossils began when Moussa founder Brian Eberhardie was about 9. His school had some glass cabinets containing a small Victorian collection which just fascinated him. Family connections on the Isle of Wight led to hours hunting the fossiliferous cliffs for echinoids, ammonites, Devil's toenails", gypsum crystals & marcasite nodules.
He made his first tour of Morocco in the mid 80's, a time of classic mineral finds in Touissite & Mibladen and the start of extensive fossil collecting from the Sahara. He returned twice a year and Moussa was born. Enquiries with the locals on his 3rd trip bore fruit, and after a wild Berber nomad tent chase above the Dades gorges in the Hight Atlas Moussa obtained their first mobile shop. The tents became a feature of the UK music festival scene for a couple of decades - slowly getting larger and more elaborate - a regular feature was a big hands-on display for kids who would hang out for hours while their parents watched the music, danced, and did boring adult stuff. Many visitors to the Tucson show would have seen one tent incarnation sitting out from of the Inn Suites lobby.
Moussa has been fortunate and blessed with many great people who have come to work alongside Brian. Sister Helen regularly helped at Tucson & Denver shows in the early years. In the late 90's Dr Kendal Martyn joined the company, bringing welcome background in geological sciences. He has been part of their team ever since.
Moussa's journey has enjoyed plenty of stimulus & cross fertilization with the paleo-sciences: Pete Lawrance, former curator at Norwich Museum who infected Brian with his love of trilobites and enthused him about exploring the fast-developing fossil locations in Morocco. Richard Fortey & Brian Chatterton - kind enough to name a Moroccan cyphaspid trilobite after Brian. Dale Russell, Des Collins, Angela Milner, Alexander Kellner, Paul Barrett, David Evans, Oliver Rauhut & Dave Rudkin have all given valuable information on material Moussa handled. Articles have been written, locations excavated, and specimens housed in institutions on the back of the connections made and cultivated through the Tucson show.
The company has come a long way since their first visit to Tucson in 1989 via the Desert Inn, Executive Inn, Ins Suites and now Kino Park. Moussa are still heavily involved in Morocco, but the Moussa most show visitors see is quite different from the day-to-day activity back in the UK, where their small B2B warehouse is sending minerals, fossils & stones to customers all over the world.
During the 2022 Tucson shows, Dr. Kendal Martyn and the staff of Moussa Minerals & Fossils can be found at the Kino Gem and Mineral Show in Tent 28, located at 2500 East Ajo Way. Visit their website at https://moussa-minerals.com and see their Ad facing the inside of the back cover of Guide to Fossil Dealers and Events in Tucson.