February 10, 2018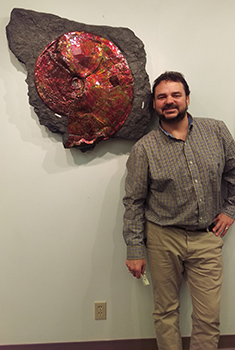 The Association of Applied Paleontological Sciences (AAPS) welcomes you to the 2018 Tucson Gem, Mineral and Fossil Show. Inside of our show guide, you will find all you need to locate the finest fossil, mineral and gemstone dealers from all corners of the globe. We are a proud organization that is dedicated to helping you find the right products whether they be fossils, minerals, preparation tools, adhesives as well as all the help and information you need to get you going. All of our members agree to comply with our code of ethics and we strive to make sure that you can count on us now and in the future.
I am extremely excited to welcome botanist, ecologist, geologist, paleontologist and paleobotanist Walt Wright as our 2018 special guest presenter for our AAPS Tucson Speaker Series. Walt has been to all corners of the globe in search of petrified wood and will talk about all things wood. Walt has extensive professional experience as a Naturalist for the U.S. Forest Service, education and research at the University of California, Riverside and has also worked as a consultant to federal government agencies on endangered species restoration and resource mitigation.
Walt has written extensively in the fields of botany and agriculture, and now in the field of petrified wood. Over the past 21 years he has lectured all over the United States. He has one of the largest, if not the largest, petrified wood collection in the world. This is truly an event not to miss!
AAPS encourages all who care about the hobby of rock, mineral and fossil collecting to become informed about the many rules and regulations that affect our specific areas of interest! We owe it to our future generations to become involved and to participate in the rule-making procedures to ensure that laws and regulations reflect the needs of the people while preserving the integrity of the science. If we don't like the laws and regulations that are in place now, then we need to work with Congress and the different agencies that make these laws and regulations to see what we can do to change them.
I urge you to become proactive, be concerned, and most of all, get involved!!! Our hobby and vocation will disappear if we don't start to make the necessary changes that work now and will work for the future!
May all of you have a happy and prosperous 2018.
Kindest regards,
John Issa, President