2018 AAPS Advocate Tom Lindgren and GeoDécor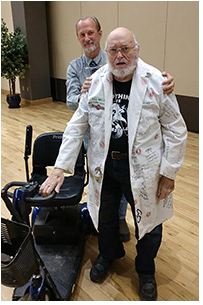 AAPS honors the person or company that successfully bids on the PaleoBOND Lab Coat during our annual meeting. The lab coat was donated by Bill Mason during the 1995 AAPS auction and has been auctioned off every year since. The winner has the coat for one year and is required to bring it back the following year to be auctioned again. The recipient of the 2018 AAPS Advocate recognition is Thomas Lindgren of GeoDecor.
GeoDecor is the concept of Thomas and Christine Lindgren, whose entrepreneurial vision transformed a rundown mid-century warehouse in El Segundo, California, into a fascinating fossil and mineral showroom, in 2001. Working with the concept of placing fossils and minerals into interiors of homes, commercial buildings and public institutions - in an industry in which fossils were viewed only as specimens to be acquired by collectors and museums - was an inspiration born from the aesthetic sensibilities of both spouses. From their guest appearances on shows such as Its Christopher Lowell, Designing for the Sexes and Cash and Treasures,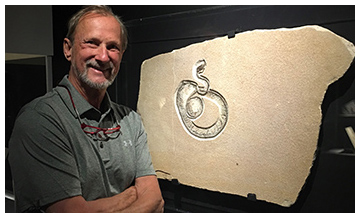 to GeoDecor's presence at a spectacular year-long exhibit at the Pacific Design Center, the company promoted awareness of the beauty of fossils and minerals to the interior design community. Outreach efforts to the ASID (American Society of Interior Designers) and the AIA (American Institute of Architects) facilitated GeoDecor's introduction of fossils and minerals to a design community that quickly realized the benefits of the aesthetic appeal of geological masterpieces in the form of nature's art.
The display at GeoDecor's Tucson gallery defines the essence of the GeoDecor concept - living with the prehistoric past as an inspiration for the present and the future. The 4,000-square-foot gallery, located at 1635 N. Oracle Road, has displayed the world's finest paleontological and geological treasures for the past sixteen years, providing a visual feast for designers, museum curators, collectors and homeowners and offering the finest paleontological and geological pieces available in the world today.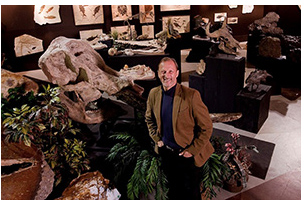 Tom Lindgren's hands-on approach - operating fossil excavation and overseeing GeoDecor's fossil preparation labs - has raised the bar in terms of offering the finest pieces, with the highest level of quality control. His extensive experience, in the field and in the lab, informs all aspects of operations. GeoDecor guarantees both aesthetic quality and authenticity of their pieces. Numerous scientific institutions have acquired specimens for display or research, which have come through the doors of GeoDecor.
Integrating commercial and scientific approaches and inspiring the next generation of paleontologists is a company goal. GeoDecor regularly invites distinguished scientists and academics to the fossil excavation and lab who express enthusiasm for GeoDecor's practical application of scientific method. A working relationship with the University of Arizona and Pima County Community College via internship programs also reflects GeoDecor's commitment to education in the geosciences.
GeoDecor's showroom at 1635 North Oracle Road, Tucson, Arizona, is open to the public at no charge during the Tucson Gem and Mineral Show, held annually during the first two weeks of February. The rest of the year, it is open by appointment only. The company's web address is www.Geodecor.com