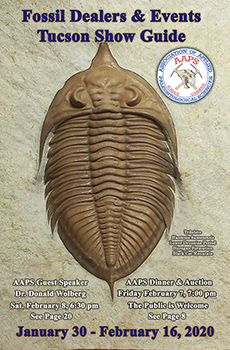 The Association of Applied Paleontological Sciences has published an annual guide since 2006 listing business members of the association. Many of the AAPS member dealers sell at one or more of the over 34 show locations in Tucson during what has become the world's largest mineral and fossil show starting the last week of January or first week of February each year.
The AAPS Fossil Dealer Show Guide has become the industry's standard, listing show locations where fossil dealers have set up, along with contact information for all of our business members that chose to be listed in the annual guide. Download 2020 Guide (low res) PDF 7.3 MB.
The 2020 edition of the guide will be available at the following locations starting on Monday January 27th, at The "Welcome to Tucson" tables in the Tucson International Airport. On the 30th at The Tucson 22nd Street Show, The Hotel Tucson City Center, The Days Inn (Mineral and Fossil Alley), The Mineral Fossil Marketplace, the Mineral Fossil Co-op, The Granada Gallery, the Pueblo Gem & Mineral Show, and the 13th Tucson Gem and Mineral Society Show, as well as the rooms of many of the AAPS Business Members during the shows.
If you would like to advertise in future editions of the guide, please contact George F. Winters at 435-744-3428 and a contract will be mailed to you. Substantial savings can be had by becoming a business member of the association.