The AAPS Photo Scales were developed to add perspective and scale to any image of fossils, big or small. AAPS offers a scale that incorporates inch, centimeter, millimeter, and grain scales in one device. The scale is printed on heavy card stock, then heavily laminated. The lamination allows writing on the front with either a grease pencil or marker. There is room to write a field, catalog or accession number for referance.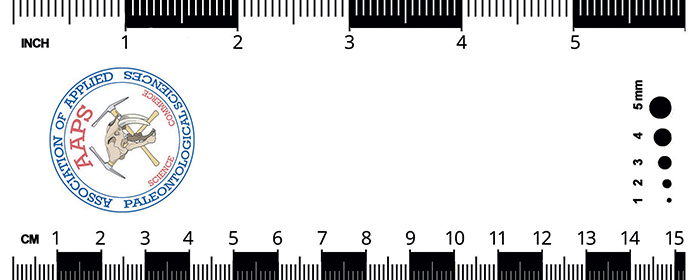 Our Photo Scales are available for $4.95 each, but one will be sent to each new member who submits a membership application. You can obtain one by sending a self-addressed stamped envelope to the AAPS office, or by stopping by the AAPS booths at the Mineral Fossil Market Place, durring the annual show January 27th through February 10th 2024.
AAPS Business Members can request photo scales and other promotional items by contacting the AAPS office.