As February draws to a close, there is a lot to report due to our annual meeting and dinner in Tucson. It is obvious that we are still recovering from the pandemic, attendance was down from the average pre-pandemic numbers, both for the number of dealers and buyers attending the shows. But things were much better then 2021. The outlook for 2023 is promising.
First to report on is the results of our annual election. The following individual were elected to serve for the 2022-2024.
Neal Larson, Vice President
Nathan "Sandy" Ludlum, Secretary
Japheth Boyce, Board Member
Amanda Cantrell, Board Member
Anthony Lindgren, Board Member
Walter Stein, Board Member
And Luke Larson who fills the Board position vacated by Neal
Congratulations to them all. Please visit https://www.aaps.net/officers.htm for a complete list of your officers, board, and committee members.
For the first time in the history of our association we awarded each of our grants and scholarships and had multiple applicants for our James R. Welch Scholarship. Here is the list of the 2022 recipients announced during our annual meeting in Tucson.
A. Allen Graffham Research Grant, Michael D. Deak
Dan and Hope Rigel Educational Grant, Kelly Pierson
Rene M. Vandervelde Research Grant, William Whittenberg
William H. Mason III Preparators' Grant, Dr. Adiel A Klompmaker
Charles H. Sternberg Scholarship, Trevor H. Rempert
James R. Welch Scholarship, Samantha Arsenault
Charles H. Sternberg Medal, Thomas Witherspoon, posthumously
We welcome back a few past members of the association, Charlie Magovern - The Stone Company, Gael Summer - Paleo Restoration, Tyree Lamph - Utah Dump Digger, Thomas and Barbara Perner - Zeder Co International, and Patrick Hogle - American Fossil LLC.
And before I close, I hope that you will join me in welcoming our newest members.
Samantha Arsenault, Associate Membership
Alan Brown, Earth Experience
Michael D. Deak, Associate Membership
Steffen Dettmann, Kristallkontor
Robert Diaz, Mexican Amber
Robert Drachuk, Natural Selections
John Fox, Archealogy & Paleontology For Everyone
Darin and Sara Hoeg, Fossil Fish Advetures, LLC
Aamon Jaeger, NorthWest Montana Fossils
Miles Martin, Miles of Alaska
Nyle C. Monday, General Membership
Kelly Pierson, Associate Membership
William Rose, Ginkgo Gem Shop
William Whittenberg, Associate Membership
I hope that all of the new members will become active in the AAPS. All of Association's business members can be found at https://www.aaps.net/business-membership.html
Sincerely
George F. Winters, Administrative Director
george@stonejungle.com
phone: 435-744-3428

Tucson Theft and Recovery, A Happy Ending!

Late last month on January 30th, Eric miller, owner of Geoteacher's Fossils had two very expensive Moroccan Spinosaurus claws stolen from his room at the Fossil Mineral Alley Show. The combined value of the two claws was $25,000 Eric immediately called 911 and two police responded and took a report. Eric distributed photos of the two claws to fellow fossil dealers at many of the different show locations around Tucson and AAPS posted the photos on many different social media sites online including the AAPS Facebook Group.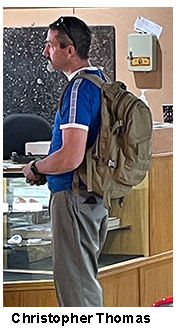 The exposure paid off on Tuesday February 8th, when Brock Sisson owner of Fossil Logic was approached at the Mineral Fossil Marketplace, 1333 N Oracle Rd by an individual claiming to have two Allosaurus claws. Brock took him to Adam Aaronson of Sahara Overland and promoter of the show. The suspected thief, Christopher Thomas pictured left, apparently homeless, but with a history of shoplifting and other criminal charges according to the Tucson Police Department, brought in the smaller of the two claws and told Adam the fossils belonged to a relative who passed away and he wanted to sell them. Adam reacted and offered to set up a meeting with a fictitious collector who would be able to offer a large sum for the claws. The accused thief returned the next day. Adam had arranged for owner Eric Miller to be on site and secured the claw before calling the Tucson Police Department. Within an hour the police responded and during the initial interview by the police, Mr. Thomas changed his explanation of the events and his reason for possessing the claw several times and claimed to have sold the smaller claw for $500.00 a day earlier, before being arrested for trafficking in stolen property and taken into custody. Unfortunately, only the larger of the two very expensive claws was recovered.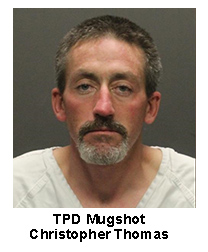 I reached out to a friend in the Tucson Police Department and learned that the police released Mr. Thomas after booking him, typical of the current book and release policy of many municipalities. Apparently only violent individuals are kept in jail waiting for their court date. Here is Thomas' TPD Mug Shot. Click on the photo for a larger high-resolution print. Recovery of the items almost never happens, and prosecution of the shoplifters is as rare as the specimens stolen. I will follow up with the assigned officers and report back there is a prosecution of this theft.
Cooperation among dealers and having quality images of your inventory can lead to a recovery, as this case demonstrates. We must be proactive and AAPS will do whatever we can to assist dealers when these thefts occur. You are encouraged to photograph your tables and cases each day and if you have expensive items, perhaps photograph each and use something for scale like one of the AAPS Photo-Scales. Adam and the other dealers at his show are to be commended for their reaction and recovery of this valuable specimen. Well done, to you all!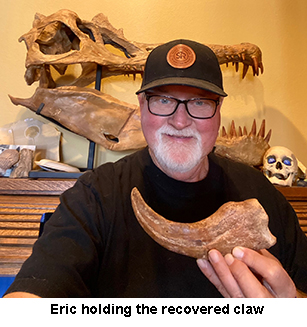 The New Bone Wars
AAPS publishes many articles throughout the year on our sister site The AAPS Journal. Starting with this newsletter, we will post excerpts with links to the complete article. If you have an article to submit fore consideration, please contact our publications committee Chair, Neal Larson, ammoniteguy@gmail.com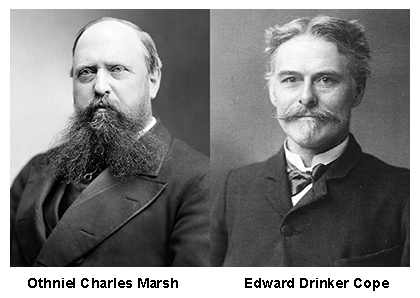 The term, Bone Wars was first penned to describe what was going on in the field and research offices of academic paleontology in the United States during the later portion of the 19th century. Two well-known paleontologists, Professors Othniel Charles Marsh and Edward Drinker Cope were literally feuding in western North America in a battle to collect the most exciting fossil specimens while racing to name new species of dinosaurs, mammals, and reptiles. It was this rivalry between these two men of science that sparked the bone wars. As the science of paleontology and more specifically vertebrate paleontology evolved in the United States, more institutions were created, major museums opened their doors around the country and of course the number of academic paleontologists grew.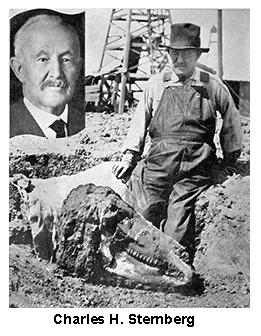 Throughout the 20th century the number of professional or commercial paleontologists expanded. Once limited to Charles H. Sternberg and his family and a few other individuals such as Robert Lee Craig in Kemmerer Wyoming. Rock shops that sold local fossil specimens were a common sight along many state roads and highways before the major interstate highway system was built. Many academic paleontologists of the time visited these local shops and purchased specimens.
The Society of Vertebrate Paleontology (SVP) was formed in the 1940s, created by academic paleontologists of the time such as George Simpson, Al Romer and Edwin Colbert, to bring together people from all walks of life who loved and worked in the field of fossil vertebrates. Even students and commercial (professional) paleontologists were offered memberships in the SVP. These founders and early members recognized commercial paleontologists as a necessity in field for their exploration and preparation skills and were grateful for the contributions these individuals and companies made.
By the mid 1950's a new breed of pioneers in the field, such as A. Allen Graffham, started collecting and selling fossils. His company, Geological Enterprises (GE) sold a wide variety of fossils (but primarily invertebrates) to universities, high schools, as well as individuals. He donated many newly discovered species and like the Sternberg's, worked closely with paleontologists and as a result was respected by many academics.
In the 1970's, companies like Black Hills Institute of Geological Research (BHI) opened their doors and soon became well known for dinosaurs, mammals, ammonites and other fossil discoveries as well as their innovative abilities in fossil preparation. While many of their best specimens went to American and international institutions, they also sold common specimens to collectors at fossil and mineral shows of the time.
Things started to change in the mid to late 1980s. There were a small but vocal group of members of the Society of Vertebrate Paleontolgy that were not happy or were jealous with the commercial aspect of vertebrate paleontology and started to let their feelings known at the society's annual meetings. They began to view fossils as almost "sacred objects" and didn't want anyone else (besides themselves) to be able to collect or work with fossils and decided to make their feelings well-known. At the same time, many academic paleontologists such as Robert Bakker, Ken Carpenter, Phil Currie, and others realized the importance and benefit of collaboration with professional paleontologists in the field, such as Black Hills Institute and Geological Enterprises...
To read the complete article, please visit, "The New Bone Wars"

Charles H. Sternberg Medal
The Charles H. Sternberg Medal was created by the Association of Applied Paleontological Sciences (AAPS) in January of 2003 to honor very special friends and members of our organization who have given a large portion of their life to paleontology. This is the highest honor that our organization can bestow on any person, whether they are an AAPS member or not. The first medal was awarded in 2003.
Because of the covid-19 pandemic that started late in 2020, we did not hold an annual meeting in Tucson during 2021. Even so, two individuals' nominations to receive the Charles H. Sternberg Award were received for, Joseph "PaleoJoe" Kchodl, and Samuel E Stubbs, Esq. Both individuals were chosen by the AAPS Board of Directors to receive the award. It was decided then, to present the awards in Tucson during the 2022 annual meeting.
Late in 2021, Thomas Whitherspoon Jr. was also nominated to receive the award for his work collecting and developing new techniques to prep the wonderful crinoids discovered in strata of his home state. Unfortunately, Tom passed away on December 9th and the Board of Directors chose to award his medal posthumously.
With Tom's passing and that both Sam and PaleoJoe could not make the meeting, Peter Larson agreed to recieve the medal for Tom, PaleoJoe's medal was mailed and Sam Stubbs was presented his medal during a special breakfast at Denny's.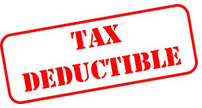 The Association of Applied Paleontological Sciences, AAPS, is a public charity registered in the state of Utah as a Non-Profit, and with the IRS under section 501(c)(3). As such it is tax exempt for income tax purposes and is permitted to receive tax deductible gifts pursuant to the Internal Revenue Service. It is also able to receive tax deductible bequests for Estate Tax purposes. Donations to any of our scholarships and Grants are totally tax deductible here in the United States. 100% of all Scholarship and Grant donations are used solely for those purposes. Specimens donated for our annual auction may also be deductible, check with your tax and estate planner

It's The Members That Make The Association