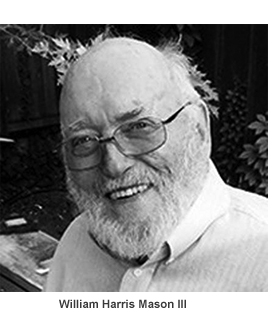 William H. Mason III (Bill) passed away peacefully of natural causes at home with family by his side on Sunday, August 2, 2020. Bill was a true native Minnesotan who loved his state spending his entire life working and raising his family in St. P, Minnesota. Bill had four children: Kristen Mason Cragg (Andrew), William H. Mason IV (Ellie), Jonathan Mason (Sonja) and Kimberly Mason (Stephen Anderson), and seven grandchildren: Molly, Luke, Kate, Matin, Maude, Kian and Owen who will carry on "Papa Bill's" love of rocks, dinosaurs and meteorites.
Bill was always enamored with geology and paleontology as a teenager, he volunteered for the paleontology program at the Science Museum of Minnesota. For nearly 55 years, he continued to volunteer his time, passion and services to that institution. Through his years at that Museum he served as a preparator in the prep lab, a collector in the field, and finally as a docent, giving tours and answering questions for museum patrons.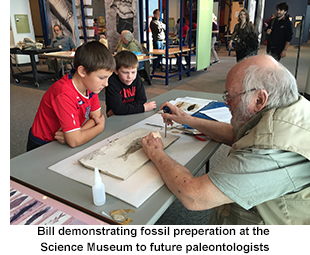 Bill's undergraduate studies were at Macalester College in St. Paul, studying geology, paleontology, and economics. He worked for The Wall Street Journal (marketing and sales...as there were no jobs in geology) and then on to 3M where he was introduced to the world of glues and adhesives. After leaving 3M he briefly tried his hand at farming in Southern Minnesota before starting his own company, Uncommon Conglomerates, Inc. (UCI in 1962), which became the parent company for a number of separate divisions, including Paleo Bond™.
Bill had a long professional career in the adhesives industry. He developed a variety of cyanoacrylate adhesive products for different industries. An ardent inventor, he applied for and was granted several patents. The first patent was for an adjustable biaxial stretcher for fabric printing awarded in 1987. His next patent was also in the fabric business, but was his first adhesive, a basic catalyst, in a spray mixture, consisting of aromatic amines to be used for quick and easy anionic polymerization of the cyanoacrylate based adhesive. It was this product that he later adapted as his accelerant for cyanoacrylate glues in the fossil industry. His last patent showed his culinary passion, as it was a cutlery tool for potatoes awarded in 1998.
Early in his career he recognized that the glue and stabilizers museums and preparators were using on fossils were inadequate and out of date, and there was a dire need for more suitable glues, adhesives, and sealants designed specifically for the many different needs in paleontology. Bill combined his chemistry background with his love for paleontology to create the perfect blend of fossil adhesives and stabilizers in a special line of products, marketed as Paleo Bond™, which was trademarked in 1994.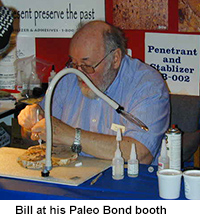 It was in the early 1990's that Bill set up a booth and began marketing his Paleo Bond™ products at both the Tucson and Denver fossil shows. From that time on, Bill would be found at both of these shows fixing, preparing and stabilizing all types of fossils, introducing new products for a wide variety of different dealers. No matter where the show was hosted, once it closed for the day, Bill's evening was reserved for socializing with friends at good restaurants; preferably those serving exquisitely prepared Sushi.
Whenever he found a need, Bill developed and improved his products to meet the demands of preparators and collectors. No matter what the condition of the fossil or the matrix the fossil was in, he worked diligently to develop a wide variety of products to glue it, preserve it, protect it, or restore it. Bill was approached by a dealer in the meteorite field at one of the fossil shows and asked to come up with a way to stabilize and preserve deteriorating meteorites. With his expertise he adapted many of his products while also developing new products to remove moisture and corrosion from nickel-iron meteorites thus stabilizing and helping to prevent future corrosion. Soon he was also cleaning and stabilizing meteorites at the shows and was introduced to a new group of customers Though Bill had partners over the years, he was the brains and driving force behind Paleo Bond™, the company and the product line.
When Bill was perfecting his Paleo Bond™ products, he met Mike Triebold owner of Triebold Paleontology, then, located in North Dakota. Mike invited Bill to join his dinosaur dig at what was affectionately called "Beer Week." During that very special week, everyone would sleep in, eat big breakfasts, work a little, have a big lunch, nap, work a little, then have a big fancy supper...each and every day for a week. It was a celebratory wrap up for the season before getting back to the lab. From that point on Bill was ALWAYS the chef and immediately became an annual "crew" member to Mike's Beer Week. He would sleep in his van and make the most fabulous meals, including one very memorable batch of "Italian eggs" for breakfast one day; all who were there still sharply, and uncomfortably recall the aftereffects.
Bill served as President of the Association of Applied Paleontological Sciences (AAPS) from February 1996 through January 2001. He lowered the annual membership dues from $50 to $10 and then actively campaigned to encourage all the fossil businesses to join. Membership more than doubled from just 35 business members to well over 80 business members while Bill was president. He and the association's board also opened the membership to collectors and fossil enthusiasts and created the category of associate memberships for academics and students. During his tenure, he actively promoted AAPS to the academic community and the world. Since that time, Bill has served as Past President, Secretary, and Board Member working hard to benefit the Association. Before AAPS started holding meetings at the University of Arizona, he also used his passion for food in helping plan the AAPS Annual Banquet held at the Ramada and Vagabond Inns as well as the Mineral Fossil Coop.
For nearly 15 years, Bill was also the unelected ambassador of AAPS, attending conferences around the United States to raise awareness of the importance of AAPS and how its members were true professionals that promoted paleontology. He was also instrumental in not only locating the grave of Robert "Peg Leg" Lee Craig, the Green River Formation's "Father of Fossils", but also in getting a permanent headstone dedicated for him at the cemetery in Kemmerer, Wyoming. This dedication brought together city officers, historians, BLM personnel, and professional fossil fish operators. Bill was generous beyond belief. He supported many commercial and academic paleontologists by providing Paleo Bond™ cyanoacrylate glues and epoxies for many special projects and to those that were struggling and could not afford to purchase product.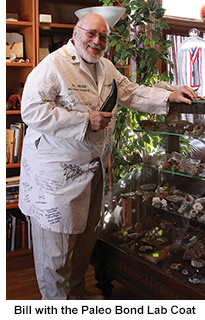 During the 1996 annual meeting and auction, he was asked by one of the bidders if he would sell his lab coat. Bill paused for a moment then removed his lab coat and the auctioneer started the bidding with the stipulation that Bill could to buy it back again the following year. From that moment on a tradition of annually selling Bill's infamous lab coat was born that continues to this day. The key to its success is that the winning bidder can only keep the lab coat for a year and must return it the following year so that it may be auctioned off once again. Over the years, this lab coat has helped raise more money for AAPS than any other single auction item (more than $25K). Every year the winner and the annual guest speaker sign the lab coat so that now it has become an archive of academic and professional paleo personalities.
Bill was a fixture at all the Tucson shows and annual AAPS meetings until 2019 when his health declined and limited his travels and participation. Over the years he also attended many of the SVP annual meetings and was a sponsor of that association for nearly 2 decades. Bill also supported many paleontological symposiums as well as a variety of other events through sponsorship and with demonstrations of his Paleo Bond™ products. John and Tracie Bennitt took over the day-to-day operations of Paleo Bond in 2012, and have vowed to continue Bill's legacy.
In an email to George Winters, Mike Triebold said it best, "He was gentle, fearless, strong and honest. RIP my good friend. Your wars have been won. You will be missed!" Out of love and respect for our dear friend, Bill, the Association of Applied Paleontological Sciences has created the William H. Mason III Preparators' Grant to assist both fossil and meteorite technicians to preserve and stabilize specimens destined for museum displays or research collections.
Respectfully, George Winters, Neal L. Larson, Tracie Bennit (with help from Kristine Cragg)