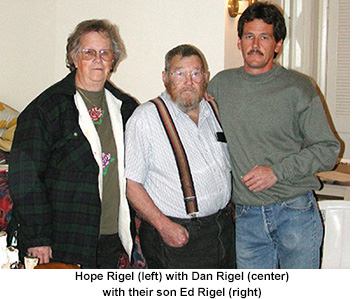 Dan Rigel ran Caveman Lapidary along with his wife, Hope for nearly 40 years. Dan passed away from a heart attack on March 8, 2010 at Yuma Regional Medical Center while on winter vacation. After a lifetime of rock hounding and running a very successful and prominent lapidary and fossil business he and Hope wintered in warmer climets.
Daniel was born on 23 July 1928 at Newport, Oregon, son of Daniel Wellington Rigel and Leona Estella Currier. He had a brother, Raymond N. Rigel and a sister, Audrey Iola Rigel.
Dan was raised in Oregon and that is where he met his wife Hope. A rockhound most of his life he started Caveman Labidary which he and Hope ran.
The Dan Rigel Educational Grant was created by AAPS in his honor.