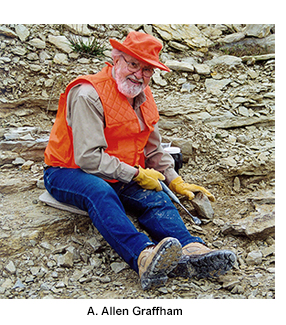 The A. Allen Graffham Research Grant, is a $1000 grant which will be awarded to a researcher that will publish on specimens collected by, or in collaboration with, AAPS members. The AAPS will offer this research grant annually to a scientist, researcher, or student in paleontology. This grant will be awarded by a majority vote of the membership attending the annual meeting in Tucson every February.
The applicant must qualify and meet the approval of the Board of Directors. Because a majority of our members are active collectors, we request that the applicant must utilize, publish, and acknowledge which member the fossils came from along with acknowledging the AAPS as a grant provider. The funds may be used for publication costs, technical costs, further collecting costs, or other research costs. Further acquisitions of fossils for continued research may also be an acceptable use.
If you are interested, you may apply by sending a letter of application explaining the focus of your research, which AAPS member you collected with or acquired the fossils from, and what you plan on using the money for. You must include a copy of your resume/curriculum vitae and photo of the applicant. Grant applications must be to our offices no later than December 1st to be considered for the award at our meeting in February.
You may send your application to:
Neal Larson, Scholarship and Grant Chairperson
ammoniteguy@gmail.com
C/O Larson Paleontology
P.O. Box 1313
Hill City, SD 57745
The Association of Applied Paleontological Sciences, AAPS, is a public charity under IRS section 501(c)(3). As such it is tax exempt for income tax purposes and is permitted to receive tax deductible gifts pursuant to the Internal Revenue Service. It is also able to receive tax deductible bequests for Estate Tax purposes. Donations to any of our scholarships and Grants are totally tax deductible here in the United States. 100% of all Scholarship and Grant donations are used for those purposes only. Specimens donated for our annual auction may also be deductible, but you need to check with your tax and estate planner.
Recipients
| Recipient | Year | Association |
| --- | --- | --- |
| Susana Palamarczuk | 2006 | Brooklyn Collage New York |