December, 2016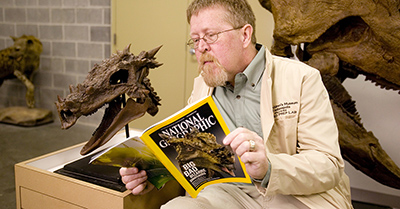 Victor E. Porter, 57 of Windfall IN died unexpectedly on Thursday, November 3, 2016 while at work at The Children's Museum of Indianapolis. He was born on March 9, 1959 to Franklin Delano & JoAnne Marie (DeLaVergne) Porter. Victor graduated from high school in 1978. He was the former general manager and master jeweler at J. Lewis Small Company in Elwood, IN, a former well driller and plumber at Porter Drilling Company as well as a self-employed jeweler for more than 40 years. On September 24, 1988 he married the love of his life - Dee Ann Planalp. He was a self-taught paleontologist who volunteered at the Indiana State Museum (since 1985) participating on many mastodon and mammoth digs throughout Indiana and the Peccary Cave digs. Vic also volunteered with Black Hills Institute of Geological Research on numerous dinosaur and fossil digs since 1986. Since 2005 Victor worked as chief preparator at The Children's Museum of Indianapolis. Victor loved his paleontological work, his jewelry work and most importantly his family and friends.
In the fall of 2002, Victor was approached by Neal Larson (then president of the international Association of Applied Paleontological Sciences - AAPS) to create a medal or an award that would be given to very special friends and members of our organization for outstanding lifetime achievement in the field of paleontology and/or for fostering cooperation, communication, and understanding between professional, amateur, and academic paleontologists. Victor used his knowledge of Charles H. Sternberg (who the medal is named for) to create a unique, 1 troy ounce (gold or silver) medal bearing the image of a duckbill dinosaur skull on one side and the name and date of the recipient on the other. It is much of Victor's vision that created the Sternberg Medal for the AAPS.
Victor loved working in The Children's Museum's Paleo Prep Lab. He brought his wit and humor to the museum each and every day and every day he inspired children. He always had the window open so that he could share his passion about fossils with children and their parents. He was an honestly, genuine human being who truly cared about people and fossils.
Victor had great motor skills and an amazing attention to detail-abilities that were essential for fossil prep. After Dracorex hogwartsia was donated to The Children's Museum at Dinosphere's opening in 2004, the museum needed someone to prepare this important fossil. The Children's Museum preferred not to hire out the work, but desired and needed to have a skilled preparator on site. Victor, who had experience as a volunteer for both the Indiana State Museum and Black Hills Institute came highly recommended by Neal & Peter Larson as well as Dr. Robert Bakker.
Victor was co-author in the scientific paper on Drakorex hogwartsia Baker, et al. 2006 that named the dinosaur as a new genus and species. He was a gifted and talented individual who had his flesh-on sculpture of Dracorex featured on the cover of National Geographic in 2007. While undergoing dialysis over the last several years he also prepared a nearly complete skull of Triceratops prorsus as well as leading the preparation on a Tyrannosaurus rex, ED Cope, collected in 2000 and 2008 by Black Hills Institute.
He is survived by his wife Dee Ann; daughter Victoria and husband Clayton Smith; son Alexander; parents Frank and JoAnn; brother, Virgil "Bud" and wife JeanaMarie; sister Lisa Jewell Clark and husband Andy; mother-in-law, Helen Planalp; four brother-in-laws and one sister-in-law (and their families) and oh-so-many very close friends. He is greatly missed.
Victor Porter, nominated for the Sternberg Medal by Neal L. Larson, December 2016.