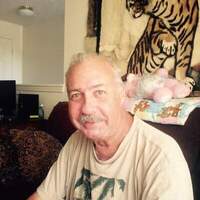 Thomas C Witherspoon, 63 of Crawfordsville passed away Thursday, 12/9/21. He was born October 20, 1958, in Detroit to Thomas and Catherine Hubbard Witherspoon.
He attended Henry Ford Community College in Dearborn, MI. Tom has devoted his life to the collection and preparation of the Crawfordsville Crinoids. It is because of his ability to do field research and responsible access private land that he has discovered, rediscovered, and collected sites that would have otherwise remained uncollected and the fossils unprepared. Importantly, Tom has been able to save and prepare fossils that others might have been ruined, or not prepared to their fullest potential.
Although Tom has not been able to attend the Tucson show for a number of years, he was well known as the person who sells Crawfordsville crinoids. Tom has been instrumental in developing and initiating the modern methods of crinoid preparation that are used today on these important fossils. In addition, Tom has prepared some of the most beautiful crinoid specimens that grace the cabinets and collections of museums and private individuals around the world. Black Hills Institute in Hill City, South Dakota has an entire cabinet devoted to these wonderful fossils prepared by Tom. They are truly works of art.
He was a member of both the "Association of Applied Paleontological Sciences" (AAPS) and the "Mid-American Paleontological Society" (MAPS) for over 30 years.
Tom is survived by his Brother Tim of St. Clair MI, his Son Tim of Indianapolis, and a granddaughter Zoey. Cremation was chosen with a memorial service to be held at a later date.