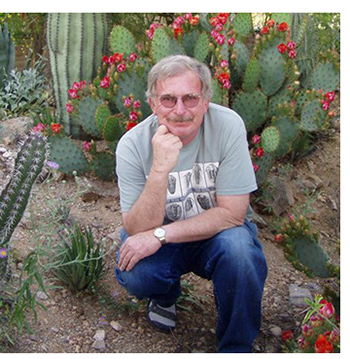 As staff paleontologist for the Arizona-Sonora Desert Museum in the 1990s, he helped dig up - and name - the largest dinosaur fossil ever found in Arizona.
But Ron Ratkevich was probably best known as one of the guys behind the counter at Tucson Mineral and Gem World, the cluttered collection of curiosities his family has operated on Kinney Road near Ajo Way for the past 57 years.
The long-time local rock hound and key figure in the excavation of Sonorasaurus, Arizona's official state dinosaur, died Nov. 13. He was 71.
Ronald P. Ratkevich was born in New York City, where his father worked as a film editor and sold rare rocks out of the basement of the family home.
Ratkevich's interest in paleontology was kindled when a fellow dealer in Florida sent his father some animal fossils as payment.
Ratkevich and his big brother, Rich, hauled the fossils to the American Museum of Natural History for identification, and they soon began volunteering there, eventually working their way into paying jobs and summertime field trips to dinosaur dig sites in Wyoming.
"It went on from there, and it never stopped," Rich said.
According to the biography on Ratkevich's website, ArizonaBC.com, he studied at the New Mexico Institute of Mining and Technology in Socorro and the University of New Mexico in Albuquerque, where he later worked as an archaeologist.
Along the way, he wrote or contributed to a number of books and field guides about the fossils, dinosaurs and ice age animals of the Southwest.
Rich said his brother was fascinated by extremely old objects, from the bones of extinct creatures to the relics of ancient civilizations.
"For him, that was the cat's meow," he said. "His lifestyle revolved around natural science."
Ratkevich joined the staff at the Desert Museum in 1989 and made national headlines there in 1995, when he and a team of volunteers dug up the fossilized bones of what turned out to be a species of dinosaur unknown to science.
A University of Arizona student named Richard Thompson first spotted the bones in 1994 while searching for petrified wood on state land north of Sonoita.
Ratkevich eventually identified the specimen as Sonorasaurus thompsoni, a new type of long-necked plant-eater that was bigger than a city bus and lived roughly 100 million years ago during the Cretaceous Period.
The dig was still underway when Ratkevich abruptly left the Desert Museum in 1998 for reasons that aren't entirely clear. A Star story from a few years later said he quit his job. Rich believes his brother was fired after a dispute involving an unauthorized fundraising dinner.
In 2000, the Desert Museum abandoned its effort to excavate the Sonorasaurus after spending about $200,000 to collect roughly a quarter of the skeleton from what Ratkevich himself once described as "just miserable rock to work with."
The "Sonora lizard" was named the official state dinosaur by legislative decree in 2018.
By then, Ratkevich was a 20-year fixture at Tucson Mineral and Gem World.
"This was his life. He was at the rock shop every day," Rich said.
After his brother was cremated, Rich said he had his remains "done up in canopic jars" like those used by the ancient Egyptians during the mummification process - one for each of Ratkevich's three children, Chris, Carrie and Nick.
Then a group of his friends and family got together on Nov. 21 for a casual, socially distanced memorial.
Rich said they had it in the backyard, surrounded by some of the treasures Ratkevich had collected over the years.
As posted on Tucson.com, By Henry Brean,with editing by George F. Winters (with help from Richard)