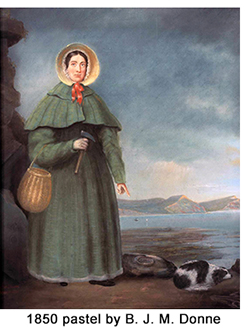 The award would be given to one or more individuals as recognition for finding a new fossil specimen (vertebrate, invertebrate, plant or trace fossil), then collecting, preparing, and ensuring that it is either donated or sold to a recognized repository for display and/or study.
Ideally the specimen should be a new or rare species or show unusual features or spectacular preservation.
The awardee should be instrumental in getting the specimen placed in a recognized repository. The award may be given for retrospective discoveries that fit the conditions of the award.
The membership of AAPS is asked to place names of future nominees for The Mary Anning Award for Commercial Contributions to Paleontology for consideration.
Nominations should include the name of the proposed recipient, the name, location, date found of the specimen and the name of the repository the specimen was placed.
Nominations can be received at any time during the year, please send to: Neal Larson, Scholarship, Grant, and Award Chairperson, ammoniteguy@gmail.com.
Recipients
| Recipient | Year | Specimen | Repository |
| --- | --- | --- | --- |