July, 2017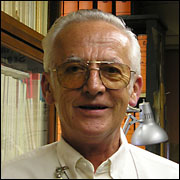 Dr. John Pojeta, Jr. passed away on July 6th, 2017 at Casey House, Rockville, Maryland. John is survived by his wife of 60 years, Mary Lou, his daughter Kim (TJ Oakes), son John (Christine Linn), brother Martin (Linda Pojeta), niece Lee Ann Selkowitz (Eric Selkowitz), plus six grand-children and two great-grand-children.
John was a graduate of the University of Cincinnati, where he founded a life-long domestic and professional partnership with Mary Lou. After graduation, he was appointed to the U.S. Geological Survey and served as geologist, paleontologist, and eventually Branch Chief through a rich and distinguished career. Since retirement in 1994, he remained active as Scientist Emeritus with the U.S.G.S. and a Research Associate of the Department of Paleobiology at the Smithsonian's Museum of Natural History.
John's career focused on Ordovician and Cambrian mollusks but he also worked on some unusual Cretaceous bivalves from Coon Creek. He will be remembered for outstanding teamwork on fossils from Kentucky, Australia, and Antarctica as well as many other parts of the world. He was a career-long member and enthusiastic supporter of numerous professional organizations, but especially of the Paleontological Research Institution and the Paleontological Society. His and Mary Lou's contributions are celebrated by the Pojeta Award (paleosoc.org/grants-and-awards/pojeta-award), which commemorates their indefatigable and splendidly cheerful service to the Paleontological Society and its members over several decades.
During the 1990's, John worked with AAPS in the creation of their scholarship program. He was instrumental in getting the word out to graduate students in Invertebrate Paleontology about the scholarships offered by this paleontological organization. For much of the 1990's John worked with Neal Larson and others to get names of candidates for the James R. Welch Scholarship. Because of his diligence and cooperation many students were able to utilize the support of AAPS to help fund their collecting so that they could complete the research in order to complete their degrees.
A celebration of John Pojeta's life will be held at a future date. In lieu of flowers, please send donations to Casey House hospice, Rockville, MD, the Paleontological Research Institution, or to the Paleontological Society.