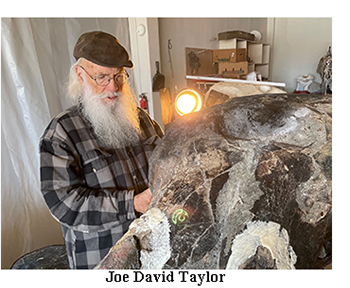 Joe David Taylor 78, of Crosbyton passed away peacefully and surrounded by his loved ones on Sunday, March 5, 2023. Joe was born October 2, 1944 in Ralls, Texas to Dennis Delton Taylor and Rachel Mae McClure.
Joe was a lifelong Christian who devoted his life to spreading the love and teachings of Jesus Christ. He was a devoted Dad who helped raised 11 children with love, patience, and understanding. He was a man of many talents. He was a gifted artist, musician, sculptor, and author. He owned a creation museum where he shared his passions for the beauty and wonder of God's creation. He inspired and touched the lives of many people with his art, music, writings, and fossils. Joe's greatest legacy was his ability to bring many people to Christ. His faith was unwavering and he was always eager to share the joy of his relationship with Jesus with others. He knew many people and was a friend to everyone. His love and kindness will be deeply missed by all who knew him.
Joe's family suggests memorials to Crosbyton Senior Citizens Center, 119 N. Berkshire, Crosbyton, TX 79322; or Lubbock Regional Honor Guard, P.O. Box 447, Abernathy, TX 79311.