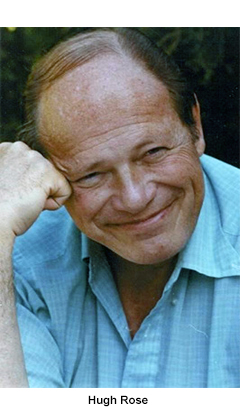 Hugh Rose, 90 died of natural causes accelerated by Parkinson's disease, at home surrounded by his family on Tuesday, July 4, 2017. He was born on September 10, 1926 in Evanston, Illinois, Son of Howard Gray and Catherine (Wilcox) Rose. He attended the University of Michigan, where he earned a B.S. in Physics and a MS. in Geophysics. He worked for the Caterpillar Tractor company and Cummins Diesel Engine Company from the 1950's to 1980's. Hugh Married Mary Moore Austin, on October 25, 1952.
Hugh's career spanned over 4 decades, Manager Caterpillar, Inc., Peoria, Illinois, 1952-1966. Vice president, marketing manager Cummins Engine Company, Columbus, Indiana, 1966-1969. President, Chief Executive Officer Cummins Northeastern, Inc., Boston, 1969-1977. President Power Systems Associates, Los Angeles, 1980-1983, Communicative Disorders High Technology, Inc., Austin, Texas, 1984-1987. Management consultant Rose and Associates, Tucson, 1984, 87-1996. Molecular cell biology researcher University Arizona Cardio-Thoracic Laboratory, since 2004.
He was an Army Veteran. As an athlete, he competed in boxing, football, basketball, track and field, tennis, and weightlifting. He was an active member and served in leadership roles in the Association of Applied Paleontological Sciences, the Ray Alf Museum and Phi Beta Kappa Society. He held positions on over 40 scientific and hospital boards during his life. He was an expert in paleontology, paleoanthropology, woodworking, cartooning, and gemology. He was married for 64 years to his loving wife, Mary, with whom he toured the world.
Hugh was the inspiration behind the formation of AAPS back in 1977. Over the years he supported many paleontological causes including helping to defend the owners and staff of Black Hills Institute of geological Research during the Sue incident. Hugh and Mary opened their home to numerous commercial and academic paleontologists each year during the annual Tucson Mineral and Fossil Shows for memorable dinners. Hugh was the first recipient of the Charles H Sternberg award during the annual AAPS meeting in 2003. He was also elected to Honorary lifetime membership that year.
Hugh had many close friends and business associates with whom he kept in touch. He was generous with his wisdom and with his money. He is survived by his wife, Mary, and his children Nancy Blais, Greg Rose, Matt Rose, and Mary Rose, and twelve grandchildren. A small private service of immediate family will be held.
The world is a better place because of Hugh Rose.