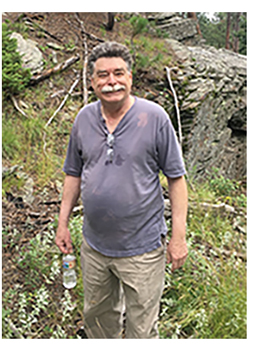 Alan Grahl Schaffert was born to Frances and Grahl Schaffert in Rutherfordton North Carolina on Dec. 1, 1952 and the oldest of four boys born in this union. In 1966 the family moved to Williamston, MI where he graduated from High School in 1970 at 17 years of age. Because of his high aptitude scores, he was accepted to the West Point Military Academy in 1970 and spent one year there before being drafted in 1971. From 1971-1973 Al served as a corpsman in the US Navy, upon his honorable discharge he returned to Michigan and attended Michigan State in Lansing on the GI Bill and served in the Marine Corps Reserve until 1977. As he liked to tell other veterans, he had the rare opportunity of serving in three different branches of the US Military.
While attending Michigan State, he would meet the love of his life, Cris Stefanie Smith, the couple would marry on April 5, 1976 - but somehow, they always chose to celebrate on April 1st, capitalizing on Al's sense of humor. After receiving a BS in both biology and zoology from Michigan State in 1977 he attended medical school at Wayne State in "Deetroit," and specialized in neurology.
Al's residency was at Barrow Neurological Institute in Phoenix from 1980-84. As a licensed medical doctor, he moved the family to Twin Falls Idaho where he was the only neurologist for hundreds of square miles. In 1989, the family moved to Modesto where he would continue caring for people the rest of his life. Beside his private practice, he became the chief of staff at the Doctors Medical Center and headed the Stroke Unit. He was not only a physician but a Board-Certified Neurologist with a special interest in neurophysiology.
Residents put in insane hours - being constantly on call, and going from one patient to the next with little to no sleep. Al did this his entire medical career. He was so exhausted from the work schedule his family referred to him as Rip Van Weekend - because he would often nap all weekend and then work insane hours during the week while almost always being on call. He was always helping people and he was good at it.
Somewhere along the way, Alan fell in love again, this time with fossils. He had probably never got over them as a child, so when Cris gave him an ammonite that she had purchased he was hooked for the rest of his life. That simple gift would fuel and consume all of Alan's free time, if he ever had any. With Cris's blessing, as well as her gift to find bargains, he became an avid collector of all things marine. From ammonites to sharks, crinoids, starfish, corals, sponges as well as pre-Cambrian and early life as well as meteorites and the origin of life. Another medical doctor friend Bob Caton told him about the non-profit museum he had built for much of his fossil collection to help preserve it for future generations. Soon after Alan, Cris and Erik created the Tethys Ocean Project and donated some of the world's finest paleontological reproductions dedicated to help raise awareness and appreciation of fossils to people of all ages. His favorite annual event was exhibiting at the Mother Lode Gem and Mineral club show in Turlock where he would share his love of Earth's past with the people of the Central Valley.
His love of ammonites brought out the true scientist in him. He discovered that most information on ammonites was in thousands of scattered journals and obscure publications all around the world. Alan was smitten by the bizarre heteromorphs called nostoceratids. For seven years alone and for seven more years with Neal Larson's help he compiled a compendium of information on every known species of ammonites within the Family of Nostoceratidae in the world. This work cumulated with the publication of The Nostoceratidae in January 2021. From 2020 to 2022, he also submitted three co-authored papers on several new species within this family; their publication is slated for some time in 2023. Alan and Neal were actively working on a second, more thorough 2nd Edition to The Nostoceratidae within the near future.
Alan also had fallen in love with fossil corals and early life on earth. He was in the process of compiling and publishing to help educate the common enthusiast on these subjects.
Alan is survived by his wife Cris; sons Erik, Pete (wife Stacy) and Andy (wife Mallory); mother Fran; brothers: Mike (wife Judy & children Paul and Jacob), and Lee (wife Nancy & children Craig, Hannah, and Kiersten); his brother David's wife Denise & children Jeff, Robbie and Elizabeth; grandchildren Ragan, Logan, Ethan, Dane and Flynn, His brother in fossils Neal Larson and his whole family plus an untold number of good friends, co-workers, employees and patients. He was preceded in death by his father Grahl and his brother David.