Vito M. Bertucci 1956 - 2004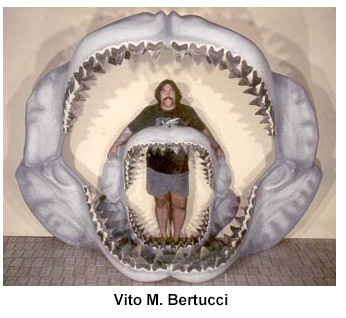 Those of us that have attended the big Mineral and fossil shows in Denver Colorado and Tucson Arizona since the mid 1980s will remember Vito, who was always ready to share his latest and largest fossil Shark tooth, He would say with a smile, "it's the largest and a world record". An AAPS member, avid diver and Shark Tooth collector, he had collected many large megalodon teeth over his career.
Bertucci owned the world's largest shark jaws, a 6-foot wide set full of 182 teeth that is featured in the Prehistoric Beaufort Gifts and Shark Museum then located at Port Royal, S.C. He has been featured in National Geographic World Magazine and a television special, standing inside his life-sized megalodon model, which is worth over $1.2 million.
The collecting ended when Vito Bertucci's body - still in a wet suit strapped to air tanks - was pulled from the Ogeechee River October 2004, said Bryan County Sheriff Clyde R. Smith. Bertucci was diving for megalodon, 8 to 16 million-year-old shark teeth, on Sunday when he disappeared, to be discovered four days later.
His obituary, published in the Long Island Newsday on October 26, 2004 is listed below.
BERTUCCI-Vito M., of Port Royal, SC, died Sunday, October 17, 2004 at age 47, accidentally while Scuba Diving. Mr. Bertucci was a Professional Gemologist and Maritime Anthropologist. He is survived by his mother , Mary (nee Lanzilotta) of Cedarhurst, his brother , Joseph Jr. (Anita) of Middle Village, and his sister, Carol Ann Bertucci of FL. His late father , Joseph Sr. died in 1998. Reposing will take place Wednesday 2-4 and 7-9PM at Meserole Funeral Home, Inwood. Mass of Christian Burial will be celebrated, Thursday, 9:30AM at St. Joachim RC Church, Cedarhurst. Interment will follow at Greenfield Cemetery, Hempstead."