René Martinus Vandervelde 1935 - 2006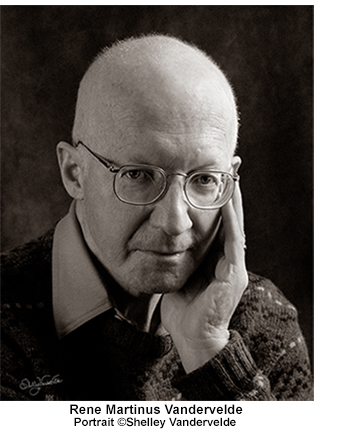 René was born May 12, 1935 in Leeuwarden, in the Dutch province of Frysland. He spent much of the German occupation of Holland on the Harmsma farm in Joure, Holland.
René's secondary education began with a degree in Hotel Management in Holland. Continuing his studies in Canada, he earned his M.B.A. from the University of Windsor in Ontario.
René married Claudette Demers and had two daughters, Gabrielle and Nadine. The family later moved to Alberta where he worked as District Manager of Versafood Services.
René's life took an unexpected turn in the mid-seventies, while looking for fossils. After coming across the little known fossilized gemstone Ammolite, René traded his chef's cap for a white cotton slouch hat and took to fossil-hunting full time. René developed and owned the Natural History Museum in Banff until 1981. Canadian Korite Gems Ltd. was purchased in 1979 with partners James Rae and Bill Jarvis. Pierre Pare and Wilson Yip joined the partnership and together they built Korite Minerals Ltd. They started Canada Fossils in 1984. René was instrumental in having Ammolite recognized as a gemstone, marketing it worldwide.
For his accomplishments he was awarded the Alberta Centennial Medal in 2005. René married Shelley Vollans in Banff in 1986. They loved scuba diving. Together they traveled the world, diving in such remote spots as Tonga and Malaysia. Shelley was a strong and loving supporter of René throughout his long illness. Shelley retired from her career as a Speech Pathologist to spend more time with Rene in his remaining years. René enjoyed cooking. He was a lover of fine food and wines, and an active member of the Chaine des Rotisseurs. An avid outdoorsman and fitness fanatic, René loved to swim, scuba dive, sail, cross country ski, hike, jog and bicycle. He had a great love for t.he arts and was passionate about classical music. He was a spirited bridge player and keen collector of antique silver.
René Martinus Vandervelde passed away at the age of 70 on Friday, April 7, 2006 after a long, courageous, and determined battle with prostate cancer. His great love of life, expansive spirit and sense of humour touched everyone who knew him. René is survived by his loving wife, Shelley Vandervelde; his daughters Gabrielle and Nadine and son-in-law Scott Kraft; granddaughters, Gabrielle and Beatrice; sister Betty Porteous, their extended families, and a very large circle of friends and business associates.
In 2007, to honor the work in both paleontology and mineralogy that René did during his liftime, Pierre Pare of Korite International and John Issa of Canada Fossils announced the creation of the René M. Vandervelde Research Grant to be funded by Korite International and maintained by the Association of Applied Paleontological Sciences.