March 10, 2016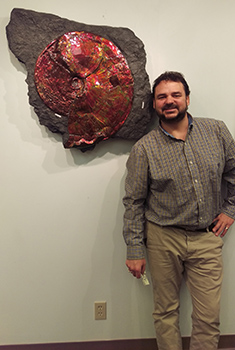 Well, another Tucson has come and gone. It was wonderful to see so many smiling and familiar faces doing what we do best; working with rocks!
The time to elect a new president for AAPS happened during the show in Tucson as well. I was flattered by my nomination and vote of acceptance by the members of AAPS; thank you very much.
With the opening of a new chapter, there is also the closing of an old one. Neal Larson of Larson Paleontology served our organization exceptionally for the past two terms. I applaud Neal for unselfish donation of time, energy and passion to this position. If I can serve even half as well as Neal did in this position, it will be a victory for our organization. Thank you very much Neal!
My initial goals for my term as president will be to get a more refined definition of "casual collecting". Too many times, terms and phrases like this are interpreted in very different ways to suit ones objectives. I would like this and a few other loose terms more clearly defined.
I would like to see a more open dialogue with many institutions and museums around the world. This means more cooperation in both directions between AAPS members and museums and public institutions. I will help work towards opening doors and clearing paths for lines of communication to flow in both directions. Most times, although the journey is different, the end goal is exactly the same. It will benefit everyone if the sharing of information goes in all directions.
With the help and input of our many members, I will work with our board of directors to improve these pathways to the benefit of everyone.
Kindest regards,
John Issa, President