This covid-19 pandemic now seems to be on the rise in over 32 states around the United States. Unfortunately, many people are choosing not to respect social distancing guidelines or wear masks in public places especially indoors. There can be no question that this is the primary cause of all the spikes and will undoubtedly result in more trade show cancelations in the future. There is an excellent website tracking state covid-19 statistics, www.kff.org/
AAPS has already received notification that many of our European, Canadian, Russian, and Australian members/dealers will not be traveling to the United States for the September shows and AAPS meeting.
I am happy to report that at least part of the Denver Mineral and Fossils Shows will take place this September, please read more below. An extension of the annual Tucson auction to include online access is being discussed by the AAPS officers. If you have solid online auction experience, please contact me if you can help with the development of this endeavor. We will continue to post current show closures below in each newsletter.
Work on the 2021 Guide to Fossil Dealers and Events in Tucson has begun. I hope to have dealer information forms and dues notices sent early in September to all our busines members. General Members and Associates will also be sent dues and renewal notices before the end of September. Please read the statement regarding advertising in the 2021 Guide below.
Last month I announced the availability of new AAPS member, vinyl stickers and static decals. I am re-posting that notice to give everyone a chance to advertise your membership in the AAPS. You are encouraged to place the decals in your vehicle, and if a business member, in your storefront windows and displays for your customers to see. We hope to have this material available at future meetings in Denver and Tucson.
Of special note this month, is the theft of a sizable collection of petrified wood from the home Walt Wright. Photos of some of the wood taken are pictured below with contact information for Walt.
Please visit our AAPS Facebook Page, www.facebook.com and our websites, www.aaps.net and our publication site, www.AAPS-Journal.org. All are constantly updated with current information of interest to AAPS members.
Sincerely
George F. Winters, Administrative Director
george@stonejungle.com

New AAPS Members
We are happy to welcome back Joe Taylor CEO of Mt. Blanco Fossil Museum in Crosbyton, Texas. We also welcome Fred Hendershot of the Paleo Preserve Fossil Museum in Ruskin, Florida
Business members of AAPS are listed on our Business Members' Page. Busines Members are encouraged to check their listings to verify that the information posted is current. If you do not notify us of address, phone and email changes, potential customers may not find you and shop elsewhere.

Stolen Petrified Wood Alert
Well known petrified wood expert Walt Wright reported a theft of over $15,000.00 worth of fossil wood specimens from his home in California during May 2019. The thief entered Walt's property twice, first on May 10th and again on the 15th. The image of the thief was captured on Walt's video cameras, and if you recognize the person pictured, please contact Walt at 714-932-2273 or email walt.wright@rocketmail.com.
Over 29 slabs of mainly Deschutes Canyon wood were stolen. This site is within an area closed to collecting and has not been collected for something over 25 years. Thus, this is a significant collection. The photos are images of part of the stolen material. The mineralization that is shown is typical of all the specimens taken.
A police report was filed with the City of Brea California, but the department is not actively working the case, which they may consider closed. The department has not returned my several phone calls for a comment.
Pictured below are samples of the petrified wood removed from Walt's property. If anyone attempts to sell you this material, please call Walt at the number listed above.
Click Image For Larger View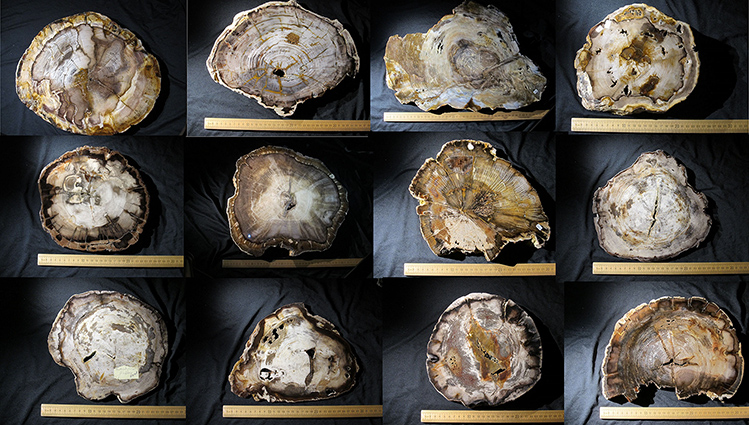 AAPS is working on a new section to our website to include descriptions, and photos of stolen items both from AAPS members and museums that share the information with us. Hopefully if any members are approached with offers to sell the stolen material, we can help recover it. Members can also help by keeping a lookout for reported items when they scan the online auction sites such as eBay.

New AAPS Stickers and Decals
The AAPS Board approved two new designs for promotional material last month. Members can order them by emailing me or calling the AAPS office at 435-744-3428. Payment can be made by PayPal or check. Shipping is additional. If you live outside of the United States, it is recommended that you purchase these at either the Denver or Tucson meetings as international shipping costs are exorbitant and prohibitive. These decals and stickers will be available on our website under Promotional Items.

Click Either Image
for Larger View

Show Your Support of AAPS!

These are clear vinyl decals meant to be placed inside of the storefront, display case or car window. They are made of the same material as the oil change stickers placed by service stations inside your front window. If your car window is tinted, they will not show well.

Large 12-Inch Static Transperent Window Decals $9.00 each

Small 3-Inch Static Transparent Window Decals $1.00 each

These 3-Inch vinyl stickers have a white background and can be applied to glass and most surfaces. They have an adhesive backing and are not static but will adhere to most solid services. they must be placed outside the glass.

3-Inch Vinyl Decals, White Background $1.00 each
The large 12-inch static stickers will be shipped in a tubular box, and shipping will be added to the invoice. The smaller 3-inch window decals and the vinyl stickers can be mailed for 1st class postage for 2 items. larger quantities will be placed in a padded envelope and again, the postage will be added to the invoice. You may request priority mail if you like. All orders shipped will have tracking.

2021 AAPS Guide Advertizing
With the many changes for the 2021 show, the best way for your company to be found by the buyers and collectors coming to Tucson is to advertise in the 2021 "Fossil Dealers and Events Show Guide" published annually by the AAPS and distributed at most of the large events in and around Tucson. Our guide is available the week before the shows start at the Welcome to Tucson Tables located in the Tucson International Airport. This allows buyers arriving early to find fossils dealers around town, giving you the best exposure for your advertising dollar. Our advertising rates are the lowest among all the guides published for the shows, and we target fossil buyers and collectors. Your listings and advertising will not be lost among the hundreds of Gem, Mineral, Bead and Lapidary Dealers advertising their products and competing for buyers in the other guides.
Please call the AAPS Membership Office if you would like to discuss rates and Ad Copy requirements. I can be reached at 435-744-3428 or email george@stonejungle.com
The AAPS is sensitive to the difficult situation due to the COVID-19 pandemic. In an effort to support its advertisers, in any way possible, during this difficult time, the organization is instituting a policy related to the 2021 Tucson Show Guide for its advertisers. If the various shows that comprise the greater 'Tucson Show' are cancelled due to this pandemic by the City of Tucson, Pima County, the State of Arizona, the Federal Government or their duly appointed representatives, AAPS will issue its advertisers a full refund of monies paid for ads if cancelled before we go to press. We have arranged with our printer to hold off printing until two weeks before the opening date of the Tucson Show. AAPS acknowledges this difficult time presents challenges for our advertisers as well as our members and does not want to see any additional hardships related to this situation develop during this already exceedingly difficult time.

Montana Dueling Dinosaurs Update
As reported last month, with the decision coming down from the Montana Supreme Court and the 9th circuit Court accepting the decision, we must now wait to learn what is going to happen to the specimen. We expect a press release later this year. I can say that the specimen will be purchased by a museum here in the United States, and as soon as the press release is received, I will send out a special newsletter to AAPS members.
You can download and read the 9th Circuit Court Decision.

Discovery Channel Dino Hunter Episodes
The last three episodes of the Discovery Channel series Dino Hunters air this month and repeat during the weeks to follow. Please check you local listing for exact time and channel.
Visit us on Facebook, and if we see additional episode reruns, I will post them there, https://www.facebook.com/groups/aaps2013/
Fri. July 17 4:00 AM Episode 3 Discovery Channel
Fri. July 17 5:00 AM Episode 4 Discovery Channel
Fri. July 17 9:03 PM Episode 5 Discovery Channel
Sat. July 18 1:03 AM Episode 5 Discovery Channel
Fri. July 17 9:03 PM Episode 5 Discovery Channel
Tue. July 21 5:00 AM Episode 1 Discovery Channel
Tue. July 21 6:00 AM Episode 2 Discovery Channel
Fri. July 25 9:03 PM Episode 6 Discovery Channel

The series features a number of AAPS members collecting dinosaurs in Wyoming, South Dakota and Montana. Those featured include Clayton Phipps, Mike Harris, Jarred Hudson, John and Aaron Bolan. They are shown collecting dinosaurs and other fossils from their land and leased properties.
As mentioned previously, AAPS had nothing to do with the production or development of the Dino Hunter series, which was produced by Half Yard Productions, a Red Arrow Studios company for the Discovery Channel.

Summer and Fall Show Updates, Covid-19 Updates
AAPS will continue to post these cancellations and updates in each newsletter. If you know of future local shows that are cancelled or changed, please notify me so that we can let other members know
The Texas Mineral and Fossil Show (RMGM Promotions)at the Lonestar Convention Center, scheduled for July 17th - 19th has been Cancelled
The East Coast Gem, Mineral & Fossil Show (LLD Productions), scheduled August 7-8-9, 2020 has been cancelled due to local social distance restrictions, verified by Laura Delano.
The Denver Show (Eons Expositions, RLLLP) This Show is On! Now centered upon the massive National Western Center (NWC) with its three levels and the adjacent Events Center with two levels. Denver, CO, September 11-20th, 2020. Our show will look different this year, with protocols to reduce the virus transmission risk. Please visit the website for updates, https://www.coliseumshow.com/
The Colorado Mineral and Fossil Show (RMGM Promotions) This Show is On! Crowne Plaza, DIA Hotel and Convention Center, 15500 E 40th Ave Denver, CO 80239 Dates have changed, please note. September 11-15th, 2020. Please be aware that the show can cancel at anytime if things get out of control with the virus. Please visit the website for updates, https://www.coloradomineralandfossilshows.com/

Member Profile
It has been decided that we should include a member profile with each Newsletter, to introduce members to one another. We will profile business, academic, and general members who have an online presence in the form of a video that we can share. If you have a YouTube or other online video that profiles your business, project or collecting preferences, please send me the link and I will contact you. We will only profile a member once in 24 months.
This month, Rick Hebden, owner of Warfield Fossils and Fossil Safari, has provided a link to promote his Green River Formation Fossil Quarry located near Kemmerer Wyoming. Rick Started the business nearly four decades ago and opens the quarry late each spring to allow visitors into collect fossil fish from the 50-million-year-old Eocene layers.
Visitors to his operation are provided all the tools they need to collect and take their finds home with them. Rick has been an active AAPS member, serving as vice president, bord member and on committees for many years. You can view the video by clicking on the link below.

September Zoom Membership Meeting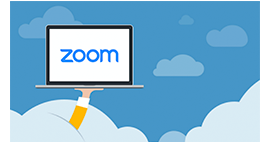 Our next meeting will take place during the Denver Mineral and Fossils Shows. Whether or not any of the Denver Shows are cancelled, AAPS will have a Zoom Meeting, inviting members to attend online. The Zoom Meeting will take place on Thursday September 17th at 7 PM For the first time, members not coming to Denver for the shows, will be able to attend our midyear meeting. An invitation to the meeting will be sent to all members one week before the Zoom event.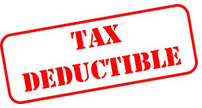 Donations to AAPS The Association of Applied Paleontological Sciences, AAPS, is a public charity under IRS section 501(c)(3). As such it is tax exempt for income tax purposes and is permitted to receive tax deductible gifts pursuant to the Internal Revenue Service. It is also able to receive tax deductible bequests for Estate Tax purposes. Donations to any of our scholorships and Grants are totally tax deductable here in the United States. 100% of all Scholarship and Grant donations are used for those purposes. Specimens donated for our annual auction and for the youth programs may also be deductable, but you need to check with your tax and estate planner

It's The Members That Make The Association