FOR IMMEDIATE RELEASE
Valuable Fossils Stolen at Denver Show - Fossil [Mineral] Reward Offered!
September 9, 2019 - Denver, CO - Valued at over $100,000, a trailer loaded with valuable fossils was stolen this weekend from the parking lot of Crowne Plaza Convention Center/Hotel in Aurora.
The 20-foot-long sliver trailer owned by GeoDecor, Inc., held, among other valuable fossils, a rare, fossil shark specimen. The piece, valued at $50,000, was slated for purchase by a museum.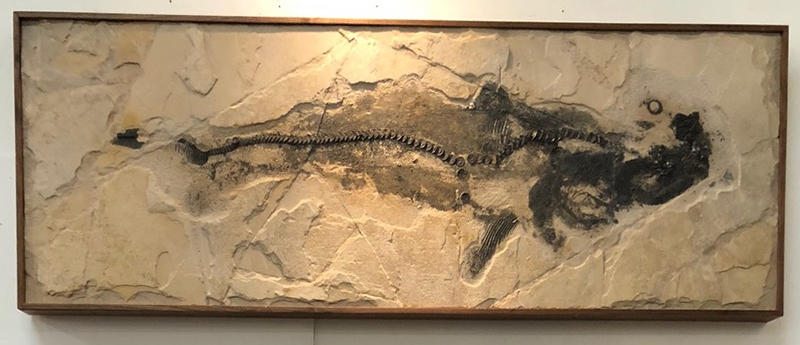 A rare fossil shark, slated for purchase by a museum, was stolen this past weekend.
Other fossils present in the trailer at the time of the theft include the fossilized skull of a giant Cretaceous predatory fish from Kansas valued at $20,000, as well as a fossil garfish in a limestone matrix valued at $18,000 and a fossil stingray and fish in limestone matrix valued at $11,000 (the latter two are 51-million-year-old Eocene treasures from Wyoming.)
The new trailer was recently purchased for $11,000.
Thirteen fossils were in the trailer at the time of the theft, including at least four pieces valued at over $10,000 each.
President of GeoDecor, Inc., Thomas Lindgren, is currently attending the Colorado Mineral & Fossil Spring Show at the Crowne Plaza in order to sell fossils to museums, collectors and interior designers. He discovered that the trailer was missing last night at 6pm.
"The theft of the fossil shark is particularly heartbreaking," stated Lindgren, "because a museum was counting on adding it to their collection. Its high value is based on the fact that shark skeletons rarely fossilize because they are composed of cartilage, hence the $50,000 value."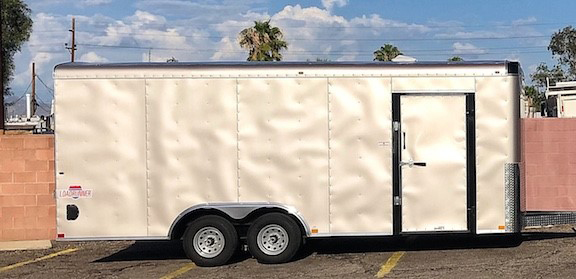 20-foot-long trailer stolen from parking lot of Crown Plaza Convention Center
plain silver-toned finish with "Loadrunner" logo on side-rear.
Aurora Police Department detective, A. Roberts, is heading an investigation into the theft, as of this morning, under case # 19-35039.
Any member of the public who sees the trailer or its contents is asked to contact the Aurora Police Department at 303.739.6000 (main line) or 303.627.3100 (dispatch.)
GeoDecor, Inc. is offering the reward of an authentic fossil Or mineral to anyone with information leading to the recovery of the trailer and/or the fossils.
GeoDecor states that no questions will be asked, and no charges brought against anyone returning the trailer to the front parking lot of Crowne Plaza Convention Center Hotel with its contents intact.
CONTACT:
Thomas E. Lindgren, President, GeoDecor
Mobile: (310) 469-8567
Eofish123@gmail.com
www.GeoDecor.com

A Security Tip for AAPS Members
This article by Tom Caggiano has run before, but with the Denver Shows looming, and the above theft, I tought it a good Idea to bring it to your attention once more.
Many of us sell our goods at shows that are run in various locations. In order to move our goods to shows, many of us use a trailer towed behind our vehicle or a truck. At times, that truck or trailer can contain a large portion of our inventory that is worth many thousands of dollars. A theft of your truck or trailer at the wrong time, such when it is fully loaded, can be a financial blow that your business may not be able to recover from.
Last year, one of our members suffered such a loss at the Denver show when his trailer was stolen from the show parking lot just after he arrived in town. The police were not much help in the short term due to legal issues and thus by the time they were able to track down the thieves, about half of his merchandise was gone. The trailer itself was never recovered. This has happened a few times in the past at most of the major Gem and Fossil shows, including Tucson.
We all use the normal locks on doors and hitches, but they are easily defeated by practiced thieves. The member started to research ways to protect his trailer in the future. He found a GPS tracking device that is reasonably priced and has no monthly fees.
It tracks and locates your truck or trailer once per day unless it is stolen at which time you can turn on minute by minute tracking. The location can be seen right on your phone. It runs on a long life (5 to 7 year) battery and thus requires no wiring, is self-contained and weatherproof.
He has been using it for a year now and is very happy with the way it works. He even bought a second unit that gets hidden in with the stock, in case the merchandise is unloaded very shortly after the theft.
I've ordered a unit for myself and thought I would share the information with our members.
It runs $279 for the unit and three years of tracking service. At less than $100 per year it is a bargain. You can read all about it, see other models and order at GPSandtrack.com.
Tom Caggiano
Lost World Fossils
Berthoud, CO