As we prepare for the different shows in Tucson Arizona, I want to remind you to mark your calendar for some special events.
The AAPS annual meeting/Dinner/Auction will be on Friday February 7th, in the North Ballroom on the 3rd floor of the Student Union, on the grounds of the University of Arizona. This is the same location as last year. More information Below.
Our annual election and scholarship ballot will take place during our meeting. We have so many applicants for our scholarships, I've added a link below so that you can review them before the meeting and make a choice. Please take a minute and download them for review.
Our Guest speaker this year will be Dr. Donald Wolberg, whom many of you will know as the promoter of the Dinofest programs. His presentation will be on Saturday February 8th this year, at the same location as last year. Read more below.
I ask everyone to think about our annual auction on the 7th. We need donations to make it successful. Please pack something to donate to AAPS. Call me in Tucson or stop by the AAPS booth in the Hotel Tucson City Center to drop off your donation or pick up donation fprms. If you are a dealer, we can arrange to pick up your donation.
I look forward to seeing you in Tucson.
Sincerely,
George Winters, Administrative Director
cell phone: 435-744-3428
email: george@stonejungle.com

2020 Fossil Dealers & Events Tucson Show Guide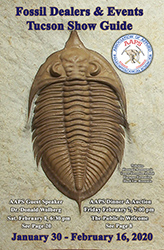 The Association of Applied Paleontological Sciences has published an annual guide since 2006 listing business members of the association. Many of the AAPS member dealers sell at one or more of the over 34 show locations in Tucson during what has become the world's largest mineral and fossil show starting the last week of January or first week of February each year.
The AAPS Fossil Dealer Show Guide has become the industry's standard, listing show locations where fossil dealers have set up, along with contact information for all of our business members that chose to be listed in the annual guide. Copies will be available at the Welcome To Tucson Tables at the Tucson International Airport when you arrive ad at most of the show locations where fossil dearlers are set up.
Click on the Guide Cover for a larger image.

2020 AAPS Guest Speaker
AAPS Lecture Series
Saturday February 8th 6:30 pm
YWCA - 525 N. Bonita Avenue, Tucson
Free Event, Public Welcome!

"The Adventures of a Peripatetic Paleontologist; From the South Bronx to Dinofest and Beyond"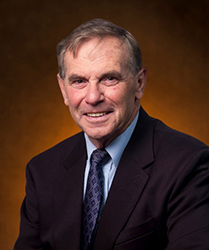 Dr. Donald Wolberg, is a geologist/paleontologist and considered by his students to be a living fossil. His unrepentant graduate students picked "aragonite" as his email address after an unstable double carbonate they suggested matched his personality. He was born in the Hunts Point section of the South Bronx, thought to be the model for the film, Blackboard Jungle, and where every election politicians arrived (with armed security) to proclaim from empty lots and burnt out buildings, the need for urban renewal. He is the founder of the Dinofest programs, well known to many professional and academic paleontologists.
Seating is limited, Reservations Required
Please sign up at the AAPS Booth, Hotel Tucson City Center Ballroom
Or Call 435-744-3428 to reserve seats.
See Page 20 in the Guide

AAPS Meeting/Dinner
Bacause of issues we had last year with dinner resrvations, this year meals must be paid for in advance by Wednesday February 5th before 4:00pm so that the order can be placed with the catering company. Please call 435-744-3428 for reservations and to reserve your meals, but you must stop by the AAPS booth to pick up your meal tickets. There wil be a shuttle running from the Hotel Tucson City Center and the Days Inn statring at 6:30 p.m. Shuttles are provider by Laura Delano of LLD productions.
Again this year, volunteers will be visiting all of the shows to stop by dealer-mambers with meal tickets and auction donation forms.
Click Here For Meeting Information

Donations For The AAPS Auction
As you know, AAPS has an annual auction following our business meeting in Tucson. We depend on your donation of items to make the auction succesfful. Money raised helps to support our scholarship and grant programs
Donations of fossils, replicas, prep supplies, and other paleontoligcal items are accesptable and your donation may be tax deductable. AAPS is a 501(C)3 Non Profit.

2020 Scholarship Applicants
This year we received numerous well qualified applicants for both of our scholarships. So many, that we decided to share the information so that members can take their time to read through the lists and decide on their choice for the recipient. Please click on the links, download the forms and review them before the meeting on the 7th of February. If you will not be able to attend the meeting, but would like to ballot, please call me or stop by the AAPS Booth in the ballroom of the Hotel Tucson City Center and I will accept your ballots for the scholarships or election of officers.

2020 Elections
The following officers are at the end of their term, President John Issa and Treasurer Katharine Taylor. Katharine cannot serve another term and Johny would like to retire after doing two terms as President If you would like to nominate yourself or any current AAPS member, please notify me by email at george@stonejungle.com or call 435-744-3428.
We will also be voting on four board positions. Election Ballots will be available at the AAPS Booth inn the Hotel Tucson City Center if you are unable to attend the annual meeting.
The current Board Members can be viewed here.
According to the AAPS By-laws, nominations for all Officer and Board positions will be accepted until the third Saturday of January (January 18, 2020) and may be submitted either by phone, in writing or by email to the Administrative Director.
George F. Winters
Administartive Director
george@stonejungle.com
cell phone: 435-744-3428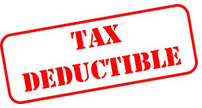 Donations to AAPS The Association of Applied Paleontological Sciences, AAPS, is a public charity under IRS section 501(c)(3). As such it is tax exempt for income tax purposes and is permitted to receive tax deductible gifts pursuant to the Internal Revenue Service. It is also able to receive tax deductible bequests for Estate Tax purposes. Donations to any of our scholorships and Grants are totally tax deductable here in the United States. 100% of all Scholarship and Grant donations are used for those purposes. Specimens donated for our annual auction and for the youth programs may also be deductable, but you need to check with your tax and estate planner

It's The Members That Make The Association